Build your own harpsichord!
Build your own harpsichord!
Thousands of amateurs have successfully built instruments from our kits, and there is probably no real reason why you cannot do likewise. The work is not strenuous, nor particularly difficult if you can read and follow directions. The truth is we don't make any "kits": What we make are custom instruments, but we allow those who want to get involved in the making of their instrument to take over at a certain stage and finish it off for themselves.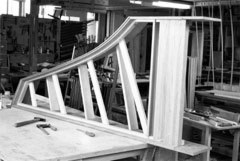 Can I really build my own harpsichord?
Building your own harpsichord is no longer a dream. We offer to share our knowledge with you so you can experience the exciting adventure of creating a fine musical instrument with your own hands, seeing it take shape little by little, and being the first to hear its sound.
Realizing the dream
The choice of models Marc Ducornet & Emmanuel Danset have developed an extensive range of instruments in several degrees of difficulty, accommodating first-time makers to experienced builders. You can choose to exercise your talents accordingly, from the easy construction of the Delin Spinet all the way to the substantial amount of precise work required for the French Double Harpsichord. Designs are based on historic principles of construction, so only a few common tools are necessary.
The choice of versions Each instrument is offered in several versions, according to how much work you would like to do yourself. By having certain delicate operations left to our care (such as assembly of the case, or installation of the soundboard) you can choose one of the more challenging models even if you are a beginner.
The choice of price The flexibility of our formula even allows you the freedom to set your own budget. While the savings are substantial from the finished instrument price, you also benefit from the achievement of having built your own instrument.
Ensuring quality
Historical knowledge The range of instruments we offer is the result of 40 years experience and research. Our in-depth study of original instruments ensures excellent tonal response in each model.
Quality materials One of the most important keys to our success, we are renown for the precise machining of our quality solid wood parts. Having constructed thousands of instruments, we have been able to test many different materials and we reject any which are not the very finest.
Technical experience The feedback we have received over the years at THE PARIS WORKSHOP has helped us to enhance the instruction manuals and perfect the kit designs, resulting in both a simple assembly process and mechanical stability for your finished instrument.
Giving yourself a professional instrument
Professional builders Confident of our craftsmanship, many professional makers throughout the world use our parts to make instruments they sign with their own name. In fact, a number of fine instrument makers have found their vocation through first constructing harpsichord kit from THE PARIS WORKSHOP.
Professional musicians Our concern for perfection is acclaimed in the world of music. Musicians often play our harpsichords which they have built themselves from our kits. Sometimes they even unknowingly play instruments made from our parts because the harpsichord has been finished and signed by an established professional maker.
Pleasure and pride!
There is something special about taking part in the creation of your own harpsichord. With our help and some of your careful time and patient work, you will soon be able to experience both the pride the pleasure of playing an instrument you have built yourself. It is up to you to make your dream become reality!
---